I have received information and materials from ©Johnson & Johnson Consumer Inc. 2017.The opinions stated are my own. This is a sponsored post. #ForBetterTomorrows #BetterTomorrows #FallBack #CollectiveBias
Having a good night sleep and wake up well rested is my biggest wish every day but our busy minds and in my case aching body have been preventing me from having a good night sleep.
You know I love to workout, I do cardio and weights 5 times a week, run 3 times a week and 3 months ago I started playing tennis which I love! But since then my neck and back hurt once in a while.
One night my neck and back pain were so intense it woke me up and I couldn't go back to sleep, it was 3:00 am! The next morning I had a full day of activities with work and the kids and since I only slept 4 hours and I was still in pain, I was grumpy, tired I was a bad mommy yelling at my boys because I wasn't feeling good, all I wanted to do was to go back to sleep!
That same night I took TYLENOL® PM and I have to say, my pain did go away and I was able to sleep 8 hours! I don't remember the last time I slept for so long, it was a dream come true! The next morning I was well rested, energized and in a good  mood, ready to take on my  daily activities with my kids, workout and play tennis, what a difference!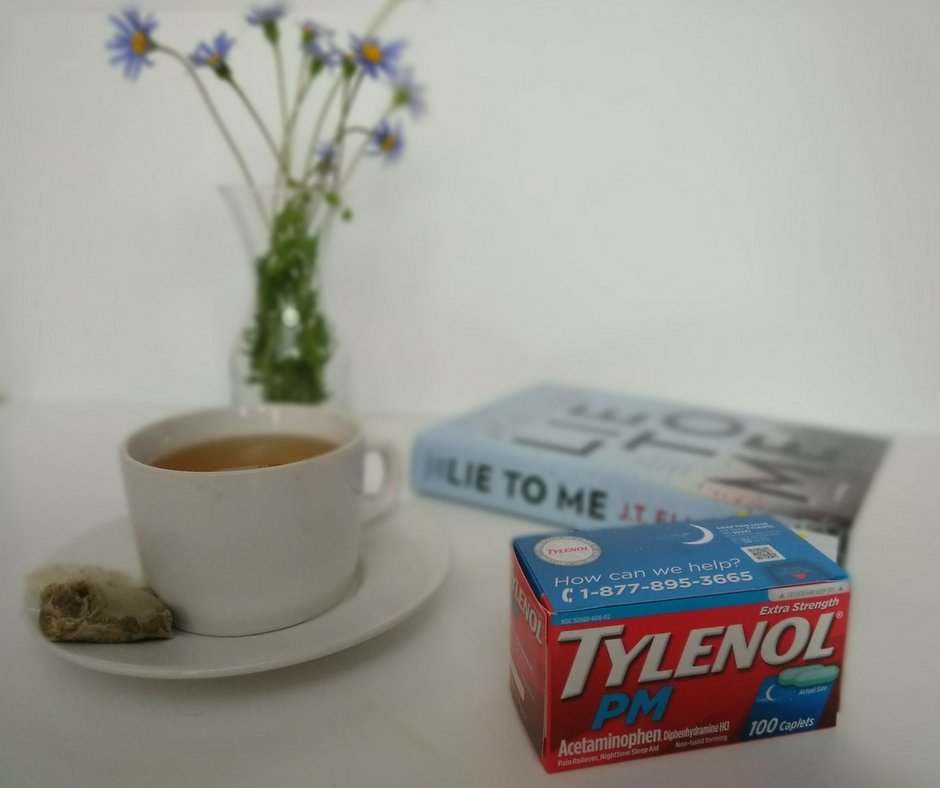 Sleeplessness  is a very common issue within women and if you're having pain those sleepless nights can be longer. TYLENOL® PM relieves those minor aches and pains while helping you fall asleep. And you don't even have to leave your house to score this deal, hover over the shoppable image above and order yourself a bottle of  TYLENOL® PM 100 count from Walgreens and save the day or should I say the night!
My pharmacy to go is Walgreens which is 2 blocks away from house, so I did go to the store and bought a bottle of TYLENOL® PM 100 count you can find it on the muscle + joint relief  isle. I love that TYLENOL® PM  is collaborating with Walgreens to help consumers like myself that suffer from achy sleepless nights.
Since the days are shorter during daylight savings, is extremely important to make the most of our day and a good night's sleep can set the tone for our next day. We don't want  a bad night's sleep caused by pain to ruin our morning workout for example, that's why TYLENOL® PM is now part of My Nightly Ritual to Fall Asleep Fast & Have  Pain-Free Nights.
Although I wish I had time to take a bathtub every night to calm me after a busy day, we moms don't have time to relax every day, that's why my I started a ritual which doesn't take much time or effort so here's my nightly ritual for a good night sleep.
Star winding down for the night at 7:30-8:00pm
Have a light dinner, no sugar or carbs, only vegetables and protein.
Put the kids to bed. (Very Important!)
30 minutes before I go to bed, usually around 9:00 pm I made my self a chamomile tea.
Turn off all electronics.
Take your tea to bed and drink it while reading a book.
If I'm in pain, which Is very common, because of my active life, I take 2 tablets of TYLENOL® PM.
This nighty ritual has really helped me go to fall asleep faster and to have a good night sleep.
While using TYLENOL® PM as directed on the product packaging you'll be surprised at how the night you imagined of waking up constantly due to pain will become a dreamy night. Life is tough and days get hectic that's why is important  to master sleep so we can get most out of our day. Not only for my mental and physical well-being, but for the sake of my family, I always make sure to have TYLENOL® PM on hand so I can have pain-free and fabulous sleep!
I Want to Hear From You!
How do you fall asleep fast and have pain-free nights? Do you also take TYLENOL® PM and have a nightly ritual? Share your Tips that make your nights a dream come true!
Find TYLENOL® PM on Facebook & TYLENOL® PM on YouTube
TYLENOL® PM contains a pain reliever and nighttime sleep aid. ©Johnson & Johnson Consumer Inc. 2017 The third party trademarks used herein are trademarks of their respective owners.
Save
Save
Save
Save
Save
Save
Save
Save